I'm building a boat, and I'm debating between a canoe and a kayak. I haven't really decided yet, but I'm leaning towards canoe, because I can build it much quicker. It's going to be an outside build, so I have to be able to get it stripped, sanded, dyed and glassed within a weather window. So far, I've decided on the following details:
* Western Red Cedar 3/16 for the bottom and turn of the bilge. 1/8 for the sides to the gunwales
* 6-ounce cloth on the outside.
* 3.2-ounce tight-weave over the football.
* Outside dyed a deep brown -- almost black (brown walnut plus red cedar dye at a 2:1 ratio)
* Inside either dyed and 6-ounce glass or carbonfiber with a 3.2-ounce covering on the bottom.
* Thin Ash gunwales
* Ash seats mounted to the sides
* Ash deck, thwarts and yoke
Here's the canoe that I designed based on a Malacite design from the 1800s. I changed it considerably. I'm looking for something fun to paddle on day trips, but something that could also be used on overnights or week-long trips. Nothing too fast. Something that paddles solo Canadian-style like a dream, and that looks traditional.
With this boat, I'm going for a modern look on a traditional canoe.
Length: 16'6"
Width: 34"
Depth @ center: 13"
Height of Stems: 21"
Rocker at 2' from stems: 1.8" (Continuous much like a Prospector)
Any thoughts on the design or the plan?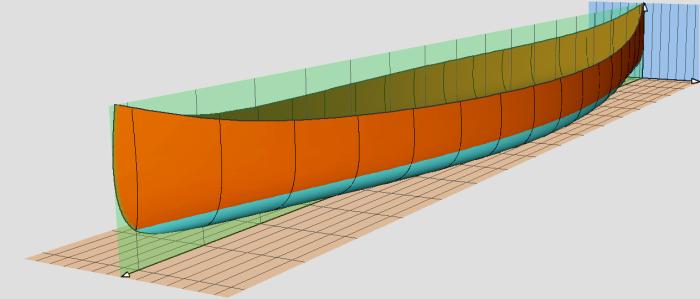 Here's the linesplan: