not all of us are lucky enough to have a place indoors to store our timber. luckily for me i do at least have a place that's under cover. all of my strips and any timber that's already been cut into pieces narrow enough to fit into a 90mm pvc drain pipe tube gets put in those with screw caps to protect them from the elements and humidity changes.
unfortunately not all of my timber was cut, so planks were wrapped in plastic, then several wraps in heavy duty polytarp. when i did unwrap some of my planks which i hadn't seen for over a year, were just fine. stored on racks under the patio which is on brick piers, they were not warped or cracked.
i also had a couple of planks of paulownia under there which had been used by the mill to protect my strips during shipping. meet fred: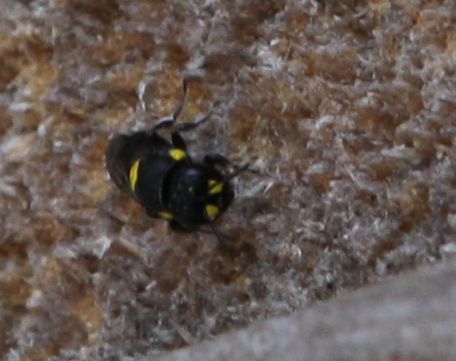 here's a later view of him (or her)
fred is a harlequin bee. as you can see, fred is enjoying the end grain of the exposed paulownia. unless you live in antarctica, the chances are you have some insect in your aria with a similar affinity. the moral of this story is to take good care of your bare timber.