inspired by randy's birdsmouth paddles, i figured that since i needed paddles anyway, this would be a good way to get rid of some of the timber that would be left over once my canoe is done. aside from the link posted by randy, i also go a lot of help from a paddle making dvd by graham warren.
the problem with the birdsmouth paddles done as standard, is that they produce a bent shaft effectively. since i'm not a paddler and only have a clue about using a strait shaft paddle, i decided to modify things slightly.
all my timber stock is 19mm thick. so, i made a jig to cut a slot 19mm wide out of the end of the shaft: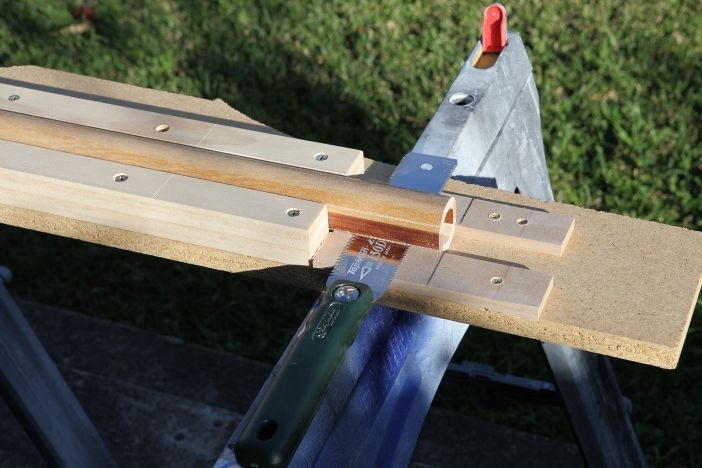 my shaft is oval in cross section, so lining it up to make parallel cuts was fairly easy. it just so happened that the mdf that i used to make the paddle blade templates gave me the right thickness to produce a 19mm slot in the centre of the shaft. the slot is 3 inches long.
for lightness i think using glassed cedar is standard for these paddles, but i was more interested in using up my excess timber. i made a blade core the width of the shaft from offcuts of my inwales flanked by strips of the same material as the outwales. the final 2 inches of this was shaped to fit inside the shaft: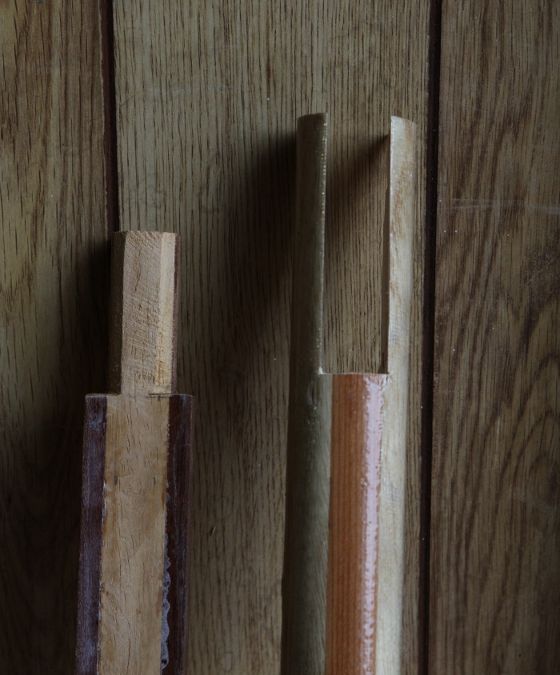 which fit together like this:
i then laminated the cores and cut out blade blanks like so:
the blades look a little dirty from over spray. i used graham warren's spray paint method to mark out the blade thickness and blade edge thickness.
after shaping the blades down, epoxying them in, making the grips and epoxying them in and sealing the whole thing, this is what i ended up with:

ok, so timbers: the shafts are both paulownia with western red cedar accent strips. the grips are cherry. the cores of both blades are new guinea rosewood flanked by naingon. the outer laminations for the otter tail are cherry. the outer laminations for the sugar island blade is new guinea rosewood and tasmanian oak. the blade tips were splined with spotted gum and small blocks of new guinea rosewood were used to dress then ends of the shaft on the blade.