hi all :)
well, i've started the build, so here's what i have so far:
for the shaft i've used birds mouth construction. the strips are 13mm wide and 6mm thick. i used a 90deg v bit on the router table to get my groove. i alternated between paulownia strips and wrc.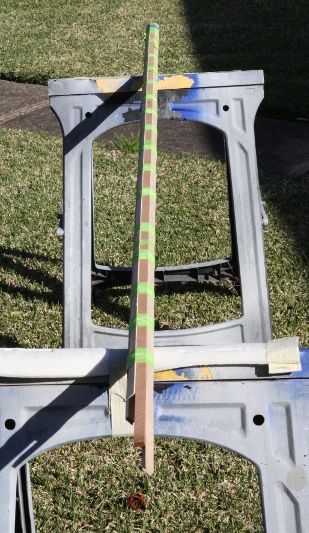 i used titebond iii to glue this up, mainly because i had it on hand and it has a longer open time, since i anticipated putting such a long shaft together would take longer. it was tricky, because the strips are to use jim dodd's term "wet noodles". using tape at one end i pieced together the strips, taped around the bundle , grabbed the end in one hand and with my other hand gently shook the bundle while squeezing and moving my hand a little way down the shaft, taped up that bit and continued this process, taping as i went till the whole shaft was formed. at this point the glue acts as a lubricant and the flexible strips can slide against each other. if you wanted to make a bent shaft, it's pretty easy to do. to keep it strait is more difficult. i added more tape points to clamp the pieces together, sighting down the shaft and rotating to keep it strait, then putting it inside some 90mm pvc tube on a flat surface to dry. if you have access to some long angle iron or metal u tube, taping the shaft to that after taping around the shaft itself would be a better option.
next was the blanks for the blades. i made two of them. i cut 40mm wide strips 10mm thick about 900mm long (too long but that's the length of the material i had at hand) and clamped them together on a flat surface.

that takes care of the initial pieces, now for the blade profile. i couldn't easily find a low angle blade pattern online. the next best thing was to find a web site with images of paddles and try using that. i've used grey owl's tempest paddle as my template. now, you could just print this out and put it on a projector to the right size against some card board and trace around it. if you have access to the right software you could import the image and trace around it to create a vector image and print it out to full size (or export to a cam router). i did it the slow and painful way. i printed out the image slightly enlarged so that the edges were still reasonable smooth. since grey owl have a central lamination , this makes a good reference point. draw a centre line down the middle of the central lamination, then mark 90deg lines at equal intervals along that line. in my case that was every 5mm. measure the distance from the centre line to the edge of the blade above and below the centre line and record for each of the intervals to create an offset table. then scale up these values by the scale of your print based off the published paddle specs. in my case that worked out to be 2.6. because of the small scale i ended up with a flat line where there should have been a shallow curve, but that's fine, it's just a guide.
i plotted my points onto a sheet of cardboard and then used french curves and battens to fair the curves. it's basically the same process you would use to make your station moulds.

that's as far as i have gotten so far. will post more as i progress.