The choice of 1/2" ply for the molds is exactly what I use and the 3/4" for the stems makes things easier as well.

I am struggling to understand why you are splitting the #7 mold ... if you are planning to have 2 pieces making up that mold and are planning on cutting each half then joining them, that seems like a recipe for problems to me. If I needed to use 2 pieces to make a mold station, I would join them first, then do the station markup and cut from that single piece.

Any chance you could elaborate on the 2 piece station 7 rationale?


Brian
Posts: 415
Joined: Sat Apr 27, 2013 10:21 am
Location: Bowmanville, Ontario
---
Hi Brian
Sorry for the confusion. From the sketch in Canoecraft and the prospector numbers, it shows the stems attached to station 6 and on to the end of the Bow/Stern of the canoe. Form 7 appears to be split and attached to either side of the Stem mold. The numbers in my copy are all given for half-molds (one side) and you are required to flip it over and do the other side.(mirror image). There is no indication that sta. #7 is any different. But, #7 can't be a solid station as it shares space with the stem mold. I was thinking it had to be two seperate pieces, to fit on each side of the stem mold. But, I don't know by the numbers if it is attached as it is drawn, or if you have to remove half the width (thickness) of the stem from either half of the sta. mold. I read in other posts from other boats that you have to split that station and put half on either side of the stem, and in doing so, you must remove the thickness of that stem from the mold as it is drawn up. I assumed that's what needs to happen here as well.
One or the other, stem or station mold MUST be cut in half at that intersection. I assumed the #7 sta.
Since the designer does not know what size plywood you will be using, an exact figure for relieving the center of #7 can not be put in the drawings.

Am I in left field here and what is the exact procedure for this intersection of stem and sta.#7.?
Rehd
Posts: 147
Joined: Sat Sep 08, 2007 8:23 pm
Location: Fresno, California
---
I think I get it now, we are using quite different station numbering schemes, I thought you were in the middle of the boat.
This is a pic of the bow of my Freedom 17 build, you can see the station 0 line marked near the extreme bow end. You can also see that station 1 is butted to the end of the stem mold.
This is the same section but with the station 0 pieces added.
I am not sure if you are talking about the station 0 equivalent or station 1 that butts at the end of the stem. For my builds, station 1 has always butted on the station mold (but that is for a limited number if builds). For the Station 0 equivalent I have both split as you suggest and I have also just cut a 1/2" slot in the bottom section of the stem mold and a matching 1/2" slot in the station 0 mold, then just slide the 2 together. The latter avoids a lot of correcting and attachment is easier.
If this is that station that is on the stem mold, slotting and interlocking the pieces proved to be the easiest and least "fuss" for me, either will work.
Brian
Posts: 415
Joined: Sat Apr 27, 2013 10:21 am
Location: Bowmanville, Ontario
---
Your understanding is correct. The layout for the station mold is independent of the thickness of the stem mold. You need to take a slice out of the middle of the station mold equal to the thickness of the stem mold as you suspected.

But before you go too far down that path, take a look at how close the station mold is to the end of the stem. That station mold may be of somewhat questionable value.

Many builders simply skip using that last station. Its small and often-times pretty close to the end of the stem. Decide for yourself if it's actually going to add any value or not...
Posts: 1273
Joined: Wed Oct 13, 2004 1:11 pm
Location: Warrenville, Illinois
---
Randy has a good point on the whether you actually need the station. I lofted all the stations and cut them all before I bought the plans ... once I read the plans, it stated that I didn't need to use the station 0 molds.

I ended up putting them on, because I had already done the work, but the reality was the plans were right and they didn't contribute to the build.

Some builds require and some don't, I guess it depends how much bending is going on at that point in the boat.


Brian
Posts: 415
Joined: Sat Apr 27, 2013 10:21 am
Location: Bowmanville, Ontario
---
Brian & Randy

Brian, my #7 is your #0. My #6 is your #1.
Randy, the stem on the Prospector is nearly 24" long and butts up against sta.#6 and sta. #7 is 12" from sta. #6 and end of canoe.

So, I will have to keep sta.#7 in position and it appears that I will have a choice of either cutting it in half and removing 3/8" from both halves or doing the half-lap type joint I mentioned and you guys confirmed.

Thanks again for your help. I'll draw that sta. #7 accordingly and ink my drawings this evening. For now, it's back to the Sairy Gamp strips and B&Cing the edges.
Rehd
Posts: 147
Joined: Sat Sep 08, 2007 8:23 pm
Location: Fresno, California
---
a more accurate way of judging the value of station #7 is to set up the other stations and then lay a baton across station 6 and the stem . If the station 7 mold is on a straight line of sight between the two, it won't add any shape to the hull when you strip it. If it is introducing any significant change in the shape, go ahead and leave it in. You will find that it is "in the way" on occasion as you work to strip the hull so leaving it out is preferable if it's not adding value.
Posts: 1273
Joined: Wed Oct 13, 2004 1:11 pm
Location: Warrenville, Illinois
---
Hello,
My name is Greg, but some of you old-timers may remember me as canoeblderinmt. I was active in the forum in '05 and '06 (has it really been a DECADE?!?!?!?), when I built my 20 foot White. A long, winding river has brought me back, and I'm glad to see some familiar names (Patrick's Dad, Glen, etc). I changed my login as I now reside in Idaho. I also have four children, and have started the first of four canoes. Each of my kids will build a boat with dad. I chose the Prospector for my oldest daughter, Megan, for it's looks, general utility, and well, it's a Prospector. I lofted plans from Canoecraft, we built a strongback, cut and sanded forms, and then waited for the snow to melt so the wood guy could get his forklift to the pallet that had our cedar on it. Then we waited for good weather to gang-rip, plane and bead and cove the strips. Finally we were able to start the build proper. As I write this, we are two strips away from closing the stems, and creating the football. I am behind on the photos, but will post some here to give you an idea. We have to get this glassed soon, as we are moving across town on the 23rd! No pressure....
So, it's great to be back building again, and I look forward to renewing acquaintances and making some new ones. Here's a few pics: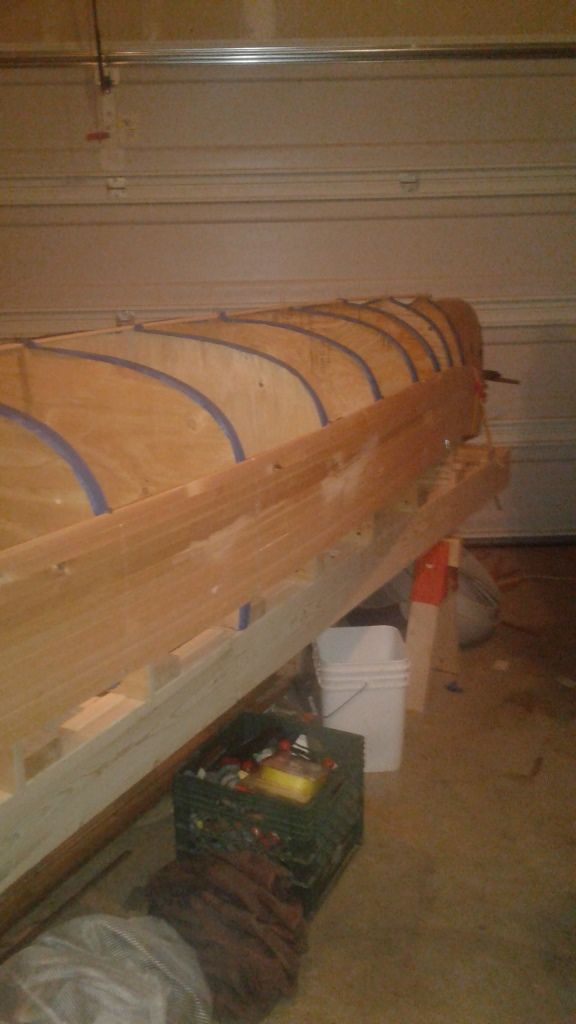 Greg
Posts: 1
Joined: Thu Dec 22, 2016 12:56 pm
---
Welcome back Greg, will look forward to following your progress ....

Brian
Posts: 415
Joined: Sat Apr 27, 2013 10:21 am
Location: Bowmanville, Ontario
---
Hi Greg ! Welcome back ! I remember "canoeblderinmt" !

Glad someone is posting a build ! I'm bogged down with other things, thanks to a Hail storm, this Summer.
Not to mention my canoe storage is over flowing.

Looking forward to your post, and throw in some tips !

Thanks !

Jim
Keep your paddle wet and your seat dry!
Posts: 982
Joined: Wed Feb 08, 2006 11:08 pm
Location: Iowa
---
Glad to hear from you! I'm guessing you are going to use Ash for your gunwales?
Posts: 1273
Joined: Wed Oct 13, 2004 1:11 pm
Location: Warrenville, Illinois
---
---
Who is online
Users browsing this forum: No registered users and 1 guest