Thanks Brian.
Haven't had much time to get out and look for that cord, but, I'll definitely use your formula on the next build. I can't seem to find the surgical tubing locally, but there are several places that have the shockcord, so that's how I'll go.

Put on a couple more strips yesterday and thought I'd show how I'm dealing with the severe twist at the stems. It's close to a 75 – 80* twist in the last 18 to 24" at the ends.
I just clamp a small clamp onto the strip with a dowel, extending away from the hull, and clamp on a couple more clamps for weight and let it hang there for a while. I can use the heat gun on that last 18" or so and speed up the process.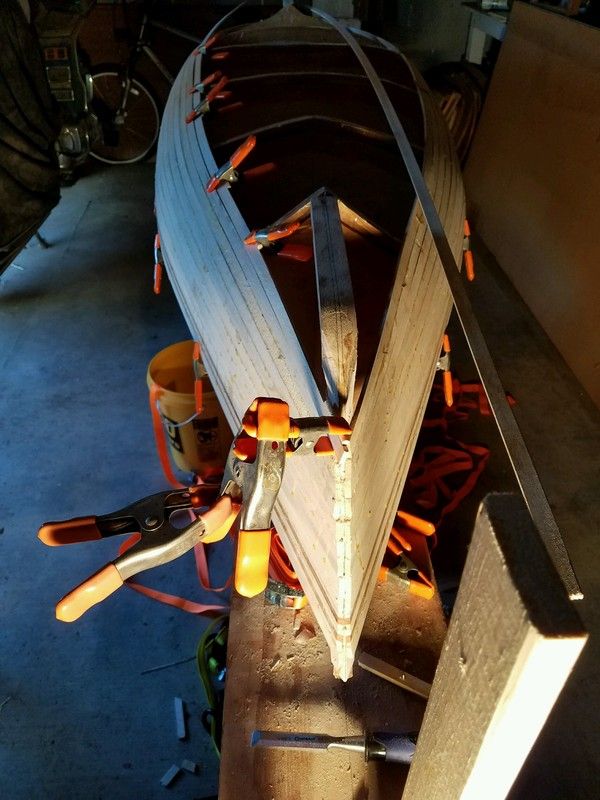 Here's a closer look. Eventually it will turn the strip away from the hull and when I pull the clamps it springs back to vertical. Once they are shaped, I pull them off and apply glue. So much easier than trying to clamp the strip under pressure.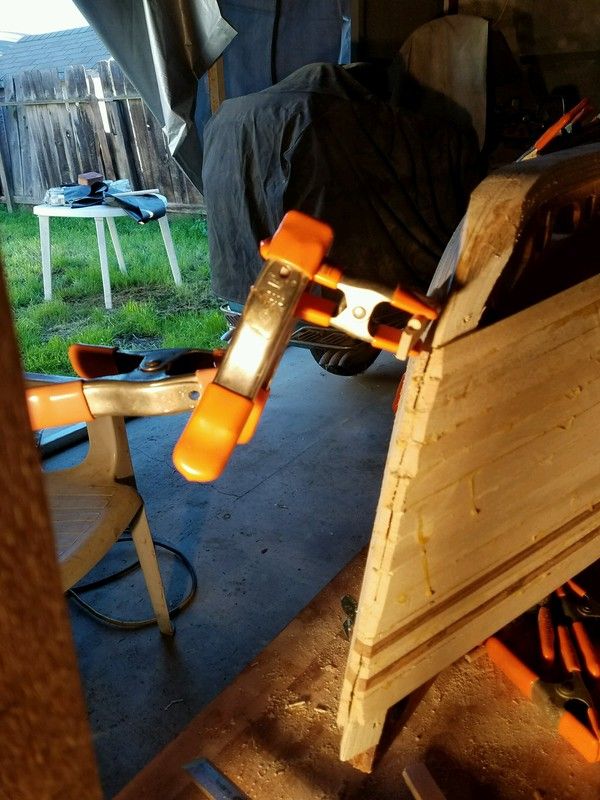 Time to get out and add another strip to each side so I can head back to the garage and cut a few more strips and get them prepped. Looking forward to trying out the new router table.
Also want to apply some hot glue at the 1st and 2nd forms where it wants to spring away from the form.
The straps have made it soooooo much easier.
While my hay is growing I have another project going. A total remake of my shop, starting with tool maintenance, and then tearing down old bulky cabinets and getting my power tools mounted to moving tables/stands. Tired of being too crowded and trading tools on the one big work bench.
Got another hand full of F-clamps for Christmas. Great for tool jigs and projects.
Rehd