Hi, new here, I just ordered a Ted Moores and Steve Killing designed Prospector kit from local Dutch supplier.
It will be my first strip planked canoe. I have some experience in building two 30' traditional Dutch boats (boeier) in lapstrake and carvel. But that was some 30 years ago. Ever since I've been restauring old farms and I have a fully heated and equipped shop for making doors, windows, blinds, furniture at a leasurely pace.
I've done all the reading in Ted's book and looking at numerous videos, so I hope to have some idea of the job ahead.
I was wondering on a few points:
1. I'll follow Ted's advice to strip plank bead up. In order to speed up stapleless planking would it be feasible to use fast curing wood glue for the easy to fit strips? The glue I was looking at is Pattex Houtlijm Express D2 with a setting time of 4-15 minutes, using simple jigs and tape.
2. Has anyone installed floorboards in the Prospector? I was thinking of using the moulds as a mould to make three or five supports and fillet/glue these to the bottom with epoxy glue. I hate to see someone step through the bottom
.
I hope you don't mind me coming back here for additional questions.
Thanks,
Frank
Posts: 2
Joined: Tue Feb 13, 2018 7:01 am
---
Hi Frank, welcome to the forum ... you are going to love this build.
As far as glue goes there are several things to consider.
When stripping in colder weather, glues have a minimum curing temp, called a chalking temp, if you go below that the glue loses integrity and bonds nothing, so check the recommended range for the glue you use.
If you use jigs and tape, that means fussing at every mold ... make sure your selected glue isn't going to setup faster than you can apply a strip ... adjusting and taping 16' of strip can take more than 4 minutes. On my current build, since it is winter, I swapped up to a 10 minute express glue and for me, that was about as fast as I could handle.
I also build cove up, which is more the norm IMO, although there are builders who also use the bead up method.
Floor boards are not needed at all, you can freely step in the middle of these boats on the water, all that water is pushing back on the other side.
I use a cam buckle/shock cord method for stapleless stripping, if you look at the posts (in the link below) starting around Nov.29,2017 ... you will see a description of how I do stapleless .... it may give you some ideas for your build.
viewtopic.php?f=3&t=2006&start=60
The only thing we like better than questions here, is pics of your progress ... so post and ask as much as you like.
Brian
Posts: 554
Joined: Sat Apr 27, 2013 10:21 am
Location: Bowmanville, Ontario
---
I'll second the Welcome to the site ! And I have to agree with Brian !

I'm a Cove up guy ! I see no valid reason to put it down ! Protecting the cove edge, is simple with a wood dowel, or plastic tubing with a 1/4" outside diameter, when setting a clamp !

Building stapleless, you need more time to get a strip Clamped in place. Stay with Aliphatic type glues. I prefer a glue that is a little thick, and stays where I put it ! Elmers MAX, is my current favorite!

Good to see another build !

Jim
Keep your paddle wet and your seat dry!
Posts: 1091
Joined: Wed Feb 08, 2006 11:08 pm
Location: Iowa
---
1. I'll follow Ted's advice to strip plank bead up.
I Believe that Canoecraft preaches cove-up building. That's how I build too.
Although lots of people build bead up, it just makes more sense to me to have the cove up when applying glue.
Posts: 1330
Joined: Wed Oct 13, 2004 1:11 pm
Location: Warrenville, Illinois
---
Thanks for the Welcome and the very useful advice!

The shop is always at a minimum 60 F and 45-50% RH, so I think no problems with chalk temperature or moistness.

Cove up or bead up: in the book Canoecraft it's cove up, in the Youtube Ted Moores Workshop series it's bead up, reason being that after the turn of the bilge applying glue in nearly vertical coves becomes a bit messy. Maybe best of both worlds, if I change halfway from cove up to bead up, glueing in a two bead strip?

Yellow glue (Titebond Original, II and III) is available here at reasonable cost, so I'll use Titebond Original Wood in stead of white PVA glue. Good setting and assembly time. Chalk temp 45 F.

I think I'm going to use shock cord and speed clips, used to quickly ty up sails, and then use round sticks between and through stations to help change direction of pull in the turn of the bilge.

I still have some time to think things over, so thanks for all the advice and very useful posts in this friendly forum.

Frank
Posts: 2
Joined: Tue Feb 13, 2018 7:01 am
---
Tilt your strong back, if you are worried about the glue running out of your coves !
I do it all the time !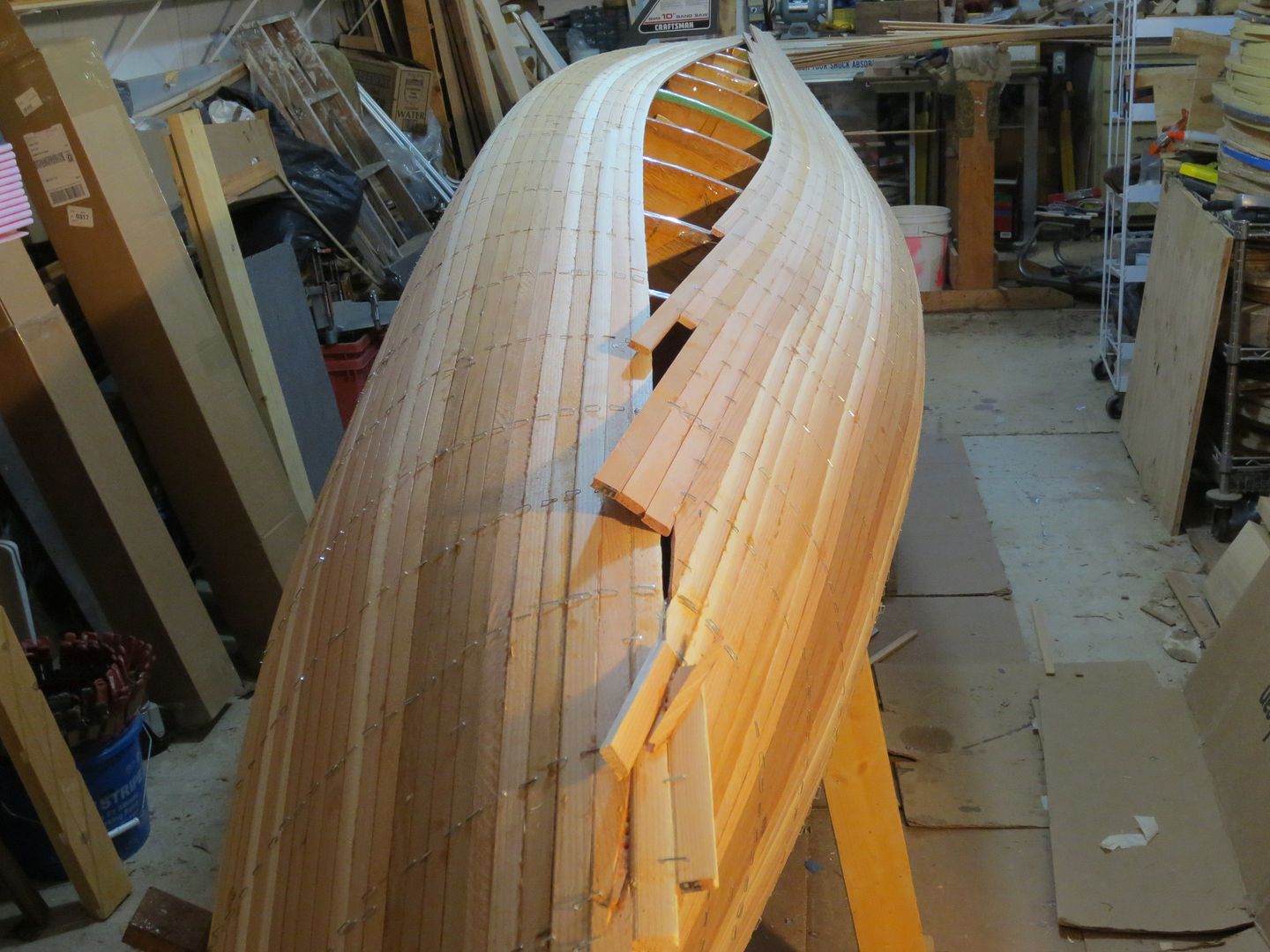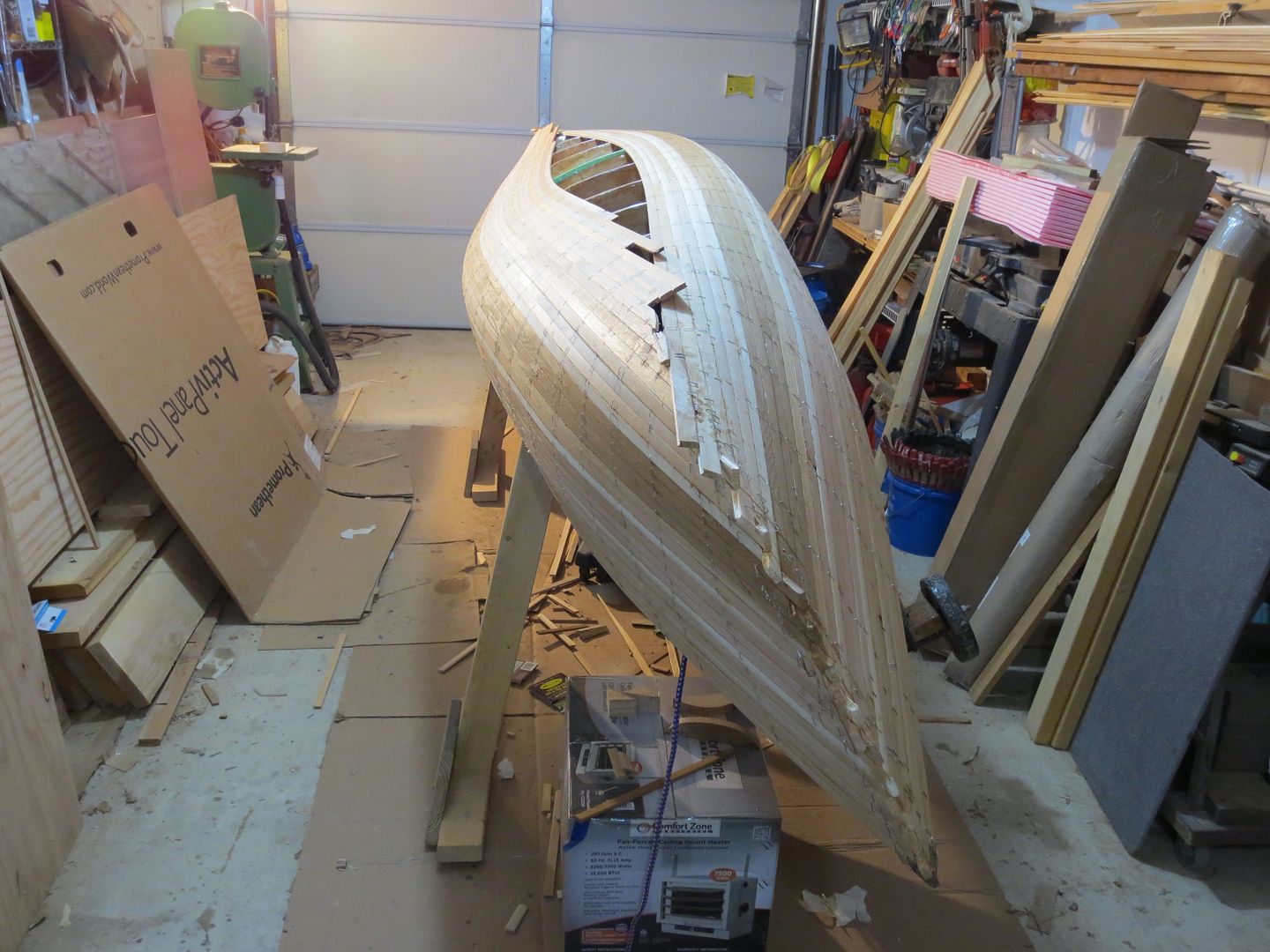 Keep your paddle wet and your seat dry!
Posts: 1091
Joined: Wed Feb 08, 2006 11:08 pm
Location: Iowa
---
Hi Frank, I have used Titebond on the horizontal portions of the bottom and never really had an issue with it running anywhere.

The key to good glue application, IMO, is a fine dispensing tip on a smaller bottle. I bought a 100 ml bottle, with a fine tip for my current build and it worked very well ...

Whatever you decide for stapleless strip application, I strongly recommend you do a couple of dry runs to test out times and techniques for getting the strip ... much less pressure when glue isn't involved.

Brian
Posts: 554
Joined: Sat Apr 27, 2013 10:21 am
Location: Bowmanville, Ontario
---
---
Return to Boat-Building Tips & Techniques
Who is online
Users browsing this forum: No registered users and 1 guest